Is it necessary to renovate your pool and/or its surroundings, or is it more cost-effective to install a completely new one of different sizes and shapes? A dramatic transformation is very similar to installing a new pool, except that there is no additional expense associated with removing the old one. Apart from aesthetics, are you satisfied with your current pool? A high-quality renovation that includes more than resurfacing the pool surrounds and garden landscape may not be significantly less expensive than the cost of a new pool and landscape. You may want to consider whether the operating mechanisms of your pool, such as the pump, filter, plumbing, and cleaning systems, require an overhaul to bring them up to current standards, or whether the interior linings and waterline tiles need to be replaced.
Plan your pool renovations
Thus, the pool you previously used as a personal water gymnasium and a place to exercise has evolved into a place of relaxation and entertainment. Consider your current way of life and how you intend to use the pool. Consider the following when planning your concrete pool restoration:
Your Budget: Is your budget sufficient for a complete pool renovation, new fencing, and a new garden, or are you restricted to updating pool surrounds and adding some inexpensive decorative touches such as new furniture and LED lights? A concrete pour is a great value for large pool surrounds, but laying pavers and bricks can be a costly and time-consuming job.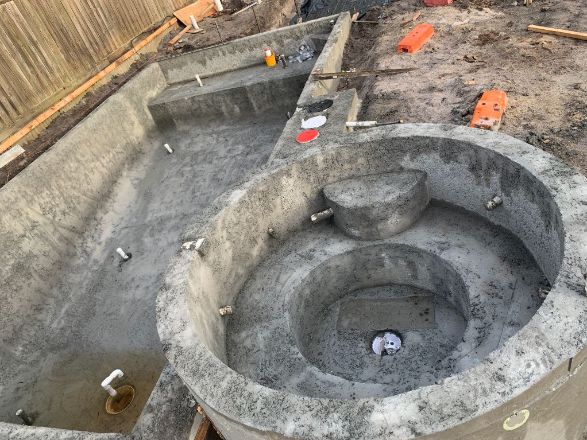 Surrounding Environment: Resurfacing pool surrounds represents excellent value for money due to the dramatic improvement in the appearance and functionality of your pool. For the pool's exterior, you have several options: stone, imitation stone, wood decking, pavers, and tiles. For wet areas, safe, skid-resistant surfaces are the best option. Decorative concrete is a cost-effective option because it is available in a variety of colours and textures. Geostone has a wide range of exposed aggregate mixes that bring out the natural texture of stone on a slip-resistant surface.
Future Maintenance: While there are numerous durable and long-lasting pool paving materials available, the majority will require routine maintenance to keep your pool surrounds in tip-top shape. Timber decks will require protective oil re-coatings, and cracked tiles will require replacement. A well-sealed decorative concrete deck should only need to be scrubbed and rinsed from time to time to keep it clean and fresh.
Conclusion
How much space will the pool surrounds require? Which areas will receive the majority of the day's heat? Avoid leaf-shedding plants and large trees that will require pruning to avoid shading the pool and depositing debris into it. Plants can be used to conceal pumps, equipment, and unsightly fencing. Your tall exotic palm may be better suited to providing shade over your preferred deckchair for lounging and reading. Soft and hard finishes can be mixed together by using potted plants and planters to make a brick wall less harsh.