Do you own an old swimming pool in your new home? Perhaps your current pool has lost its appeal and needs to be renovated. Concrete swimming pools do not need to be removed and replaced. Although they can last a lifetime, sometimes the interior plaster, tiles, and pool paint start to wear out.
Renovating your pool
Older pools can last years but the cost and time involved in maintaining them can start to increase. Maintaining the pools can take more time. You may need to use additional chemicals or other chemicals to keep your pool safe. It is possible to reduce maintenance costs by doing repairs, which will extend the pool's life. Also, consider the possibility that someone may get injured by scraping against old or damaged pool surfaces.
An experienced pool company will take out the water and then replace the tiles and internal plaster. They will also remove any paving that was integrated into the pool design. You can use modern materials, like Spectrum quartz plaster, to completely remodel your concrete swimming pool. It is UV, chemical, and acid resistant, and comes in a wide range of colors. You can choose pavers or tiles to match the colors in your plaster.
Current plumbing will also be checked during your pool restoration. If necessary, new fittings and pipes will be installed. To make your pool run efficiently, you will likely install a new eco-friendly pool filtration system. New lighting is usually part of the process. These LED lights are long-lasting and energy-efficient. Once the pool is renovated, it will be filled with water again and treated with the correct chemicals to ensure a healthy environment.
While it is an investment to repair your pool, it is far cheaper than having it completely removed and redesigned. You are replacing fixtures which would have to be done soon. The concrete is also being added.
Pool restoration Adelaide offers professional swimming pool designers as well as consultants. We are experts in the design and engineering of swimming pools.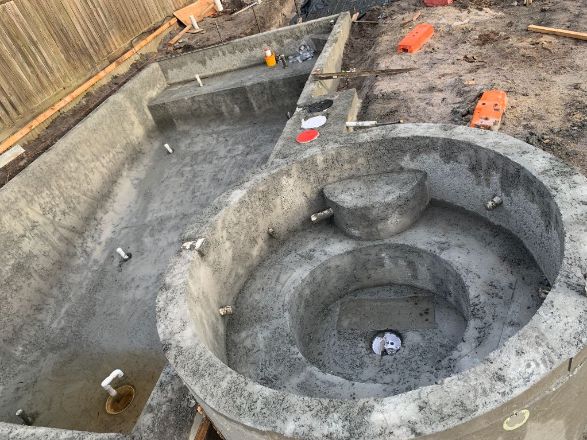 What is Pool Resurfacing?
Your current pool must be in-ground concrete and not have any existing plaster, pebble, fiberglass, or tile. The new surface cannot simply be put on top. To apply a new coat of plaster to the existing surface, you must first chip out any plaster and then sandblast the surface. All of these methods are acceptable according to the National Plasterers Council. Each method has its pros and cons. Once the surface has been properly prepared you can now apply the coat of plaster or quartz, exposed stone, glass beads, pebble, or polished swimming pool finish.
How often should I resurface the pool?
It depends, a properly maintained pool water chemistry will prolong the life span of your pool. Both homeowners and commercial property managers often keep their pool surfaces in good condition well beyond the time when it needs to be resurfaced. You can tell when plaster is starting to flake or peel, check to crack, becomes discolored, develops structural cracks and rust stains, paint peels away, or the fiberglass fibers are beginning to wear.
The pool's surface will last as long as the contractor used quality materials, the correct installation methods, and the pool service technician maintained the appropriate chemical levels.