Complete Concrete Pools Adelaide
Take full advantage of Adelaide's glorious summers by installing a concrete pool on your property. At Complete Concrete Pools Adelaide we have the expertise to design and build a swimming pool that will provide you and your guests a place of cool respite.
Take full advantage of Adelaide's glorious summers by installing a concrete pool on your property. At Complete Concrete Pools Adelaide we have the expertise to design and build a swimming pool that will provide you and your guests a place of cool respite. We specialise in creating purpose built pools that complement your yard's aesthetics while adding to the value of your property.
Our engineers have the expertise to help you visualise a swimming pool that is ideal for your home. We can design a pool of any shape or size and install any additional decorative features that you desire. Whether you would like an infinity pool overlooking the lush greenery of Adelaide Hills or a spa you can unwind in after a long week, we can construct the water feature of your dreams.
Complete Concrete Pools Adelaide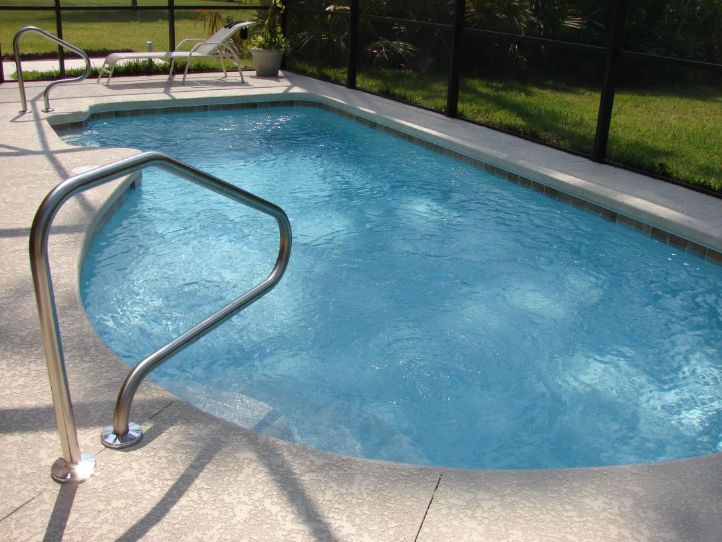 Given how well concrete stands up to the sometimes extreme weather conditions, it's no surprise that it's concrete swimming pools Adelaide property owners prefer. But this is just one of the reasons you should opt for concrete over vinyl or fibreglass.
When you begin talking to the pool companies Adelaide is home to, you will realise that your swimming pool construction material options boil down to two; concrete and fibreglass. These are the two most commonly used materials for building domestic water features in this region. So how do they compare?
Aesthetics
One key reason it's concrete swimming pools Adelaide homeowners opt for is the creative leeway it offers them. You can have your concrete pool in practically any shape, size or colour. And you can add a slew of features to enhance its visual appeal and the comfort of the pool's users. With fibreglass you will be limited in all these three aspects as the pools are prefabricated and not the custom swimming pools Adelaide residents prefer. Furthermore, if the particular design you want is out of stock, you may have to wait for some time as they fabricate it. Much as some fibreglass pool manufacturers are adding features like swim-outs and steps, they can't replicate the way concrete pools naturally blend in with their surroundings.
Ease of installation
On the face of it, a fibreglass pool may seem easier to get in place as it is pre-made. But there are still many factors to be considered. Transporting a ready-made pool to your home poses a number of logistical challenges which will add significantly to the overall cost. For instance, you need to have a provision on your yard for the crane that will lift the pool and set it in place. A concrete pool will take longer to get in place, but if you're working with a contractor well experienced in swimming pool construction in Adelaide, the wait won't be long. And the beauty is that you will have more control over the quality of the final product.
Longevity
On average, a concrete pool will serve you at least twice as long as a fibreglass alternative. A few years after pool installation Adelaide homeowners will require resurface their fibreglass pool as its outer coat suffers wear from exposure to the sun and chemical reaction with agents used to clean the pool. You won't have any such concerns with a concrete pool.
Most of the pool builders Adelaide has will be happy to render advice on which option will work best for you based on your needs and budget. But if you want a swimming pool that will stand the test of time and enhance the visual appeal of your property, concrete is the way to go.
Here are some of the concrete pool designs available to homeowners in Medindie, Brompton, Leabrook and other parts of Adelaide.
An inground pool allows you to have a water feature that blends in seamlessly with the surrounding landscaping. Our expertise in the installation of inground concrete pools ensures that you will have a beautiful, functional, feature that will fit into any space you wish it to be. Besides the creative freedom they offer, inground pools are known for their durability as their shells are fully submerged.
You have a property in Unley Park, Leabrook, Brompton or another Adelaide suburb that doesn't quite have the space you need for a full-size pool. Why not let us design a lap pool that will make use of that narrow space to give you a place to get in some exercise or just cool off? Lap pools are long and narrow, allowing space for a single swimmer to comfortably get in a decent workout. Most pool builders Adelaide is home to can design your lap pool to accommodate two swimmers. If you would like to remain consistent with your regime through the colder months, we can construct an indoor lap pool.
We have installed picturesque courtyard pools in Adelaide homes that may have been considered too small to hold such a feature. Our ability to create stunning swimming pools and spas in compact spaces bodes well for homeowners who may not have much space to play around with. Not all pool companies Adelaide offers will be able to work with limited space to create a beautiful, functional water feature. 
Many homeowners in Brighton, Glenelg, Somerton Park, Seacliff and other beachside Adelaide suburbs have come to us to build them infinity pools. With these, or negative edge pools, you and your guests can relax while drinking in fabulous sunsets. If there is a feature that will add a luxurious touch to your property and bump up its value, this is it. So if you have a hillside villa, know that we are the experts in swimming pool construction Adelaide residents turn to for infinity pools.  
These are another great option for you if your home sits on a sloping ground. The pool will have one end at the level of your floor or patio and the other end supported by a concrete wall. You can rely on leading Adelaide pool builders like us to creatively finish the wall to blend in with the rest of your home. We can even incorporate a glass edge to allow you to look into the water from outside.
Meet us & we can help you
Pool Building Process Adelaide
Key to a satisfactory pool installation is selecting the right pool builders in Adelaide. Look at their portfolio of past projects and scrutinize the quality of their workmanship. You can go a step further and talk to some of their previous customers to get an idea of how good their customer service is and how well they adhere to timelines.
Here are the general steps we undertake in the process of making your dream pool or spa a reality.
Design
As a property owner, you will have ideas of how you imagine your pool will be. You could have envisioned a snazzy negative edge pool or one of the simple inground pools Adelaide property owners usually prefer. At this stage, we will visit the site and make recommendations of how best to achieve your goals. Among the considerations that will go into determining the final design of the pool are:
How you intend to use the pool
Position of the pool in relation to the home and other structures
Available space
The depth at both ends of the pool
Will the pool be heated?
How easy will maintenance be?
Council and government regulations
Planning and approval
Based on our findings and measurements from the site and your ideas, we will come up with a formal proposal and if it meets your expectations, we will draw up a contract. Like all other pool builders Adelaide has are required to do, we will submit sketches and plans of your pool for approval from concerned construction authorities. Once the construction certificate is ready, our engineers can then move on-site to begin construction.
Excavation
After we have clearly marked out the area that will be occupied by the pool and the demarcation counter-checked by a surveyor, excavation can begin. Following the lines delineating the perimeter of the pool, our excavator digs up the ground to create the cavity in which the shell will sit. Depending on the type of soil and the prevailing weather conditions, excavation will take most concrete pool builders Adelaide hosts one to three days.
Frame construction
Upon the completion of excavation, we plant timber stakes around the perimeter of the pool to guide the laying of the steel frame. We then install the steel cage that will serve as a frame for the concrete. This is an important step in ensuring the structural integrity of the swimming pool and so our engineers undertake it with great care and precision.
Pre-plumbing
After the steel fixing is done, we install the pool's piping in the shell along with the electrical wiring for the pool's lighting. We seal all the pipes to ensure no concrete enters them during the pouring stage. Whether they're building out-of-ground or inground pools Adelaide pool builders will ordinarily do thorough pre-plumbing before concreting the shell.
Concreting
We begin this stage by loading the concrete into a shotcrete machine. This allows us to spray the concrete using high pressure over the reinforced steel frame. After this is done, we allow the concrete to cure for a few days. As one of the concrete pool builders Adelaide property owners most rely on, we use only the best quality materials for this step.
Interior finishing
Before we embark on the final painting or tiling, we prepare the interior surface of the pool by going over it to ensure it is even. Another important part of this preparation is waterproofing the pipes, drains and any other fittings. After the surface has been completely levelled and smoothened, we begin the tiling. We start by laying the coping tiles before laying the waterline tiles, ensuring grouting is properly done thereafter.
Plumbing and Equipment Installation
Here, we pressure-test the installed water inflow and outflow lines to ensure they were not damaged during the concreting and finishing stages. Once this is done, we connect the equipment required to pump, filter and chlorinate the water. Get in touch with us today to make the swimming pool of your dreams a stunning reality. Trust Complete Concrete Pools Adelaide to create a luxurious, custom-made pool design that complements your home and is perfectly suited to your needs.